2016 MY COUNTY Poster Contest Winners
To help promote awareness of the work accomplished throughout New Jersey's 21 counties, the Constitutional Officers in each county sponsor an annual poster contest called "My County." Earlier this year, County Clerk Jeff Parrott, Sheriff Michael Strada, and Surrogate Gary Chiusano invited all fourth-graders to design a poster for the contest. The students were asked to depict those characteristics that make Sussex County unique. The contest is open annually to fourth-graders, since they generally study the State of New Jersey as part of their social studies curriculum.
"We live in a great county," said Clerk Jeff Parrott. "And it's always fun to see how the students take what they learn about county government in school – and maybe some trips or sites they've visited personally – and combine that experience to create some really amazing posters."
The constitutional officers are proud to announce the 2016 My County Poster Contest winners as follows:
1st Place Winner
Avery May Frank
Merriam Avenue School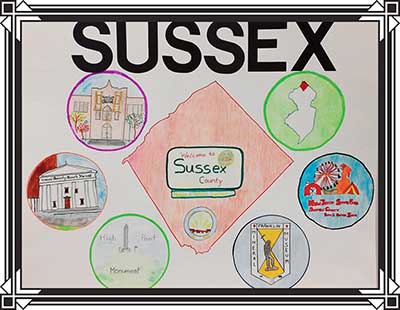 2nd Place Winner
Andrew Steinberg
Merriam Avenue School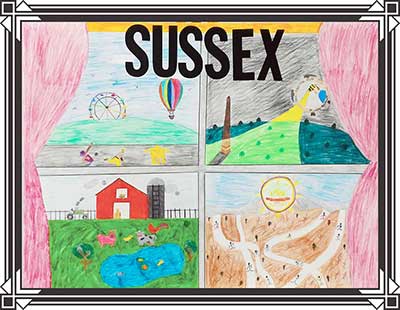 3rd Place Winner
Maryanna Cova-Gomez
Cedar Mountain School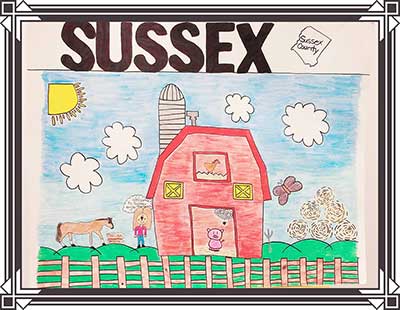 Certificates and prizes were awarded to the top three winners, with the first-place winner receiving a Kindle Fire, and second- and third-place winners receiving gift cards in the amount of $50 and $25, respectively. All three winners also received two tickets each to this summer's NJ State Fair held at the Sussex County Fairgrounds in Augusta, where their posters will be on public display in the County Building at the Clerk's booth.
Also acknowledged with special Judges Awards were:
Keelye Korger, Franklin
Nathan Steyling, Franklin
Ava Veloce, Hardyston
Alijaan Nujan, Hardyston
Alyssa Veloce, Cedar Mountain, Vernon
Sydney Vierzchalek, Cedar Mountain, Vernon
Alexis Provino, Cedar Mountain, Vernon
Rachel Kline, Stillwater
Ella Nuss, Wantage
Mia Donofrio, Lafayette
Riley Struble, Merriam Avenue, Newton
Edreece Sharaf, Merriam Avenue, Newton
Anna Schlereth, Merriam Avenue, Newton
In all, eight schools comprising over 250 students participated in this year's contest. County Clerk Jeff Parrott, along with representatives from both the Sheriff and Surrogate's offices, visited the schools of the top three award-winners to present them with their certificates and prizes.
Congratulations go out to all participants on a job well done!