Sussex County Clerk Offices Closed November 23, 2017, Thanksgiving Day and November 24, 2017, the day after Thanksgiving.
Sussex County Clerk Offices Closed November 10, 2017 in observance of Veterans Day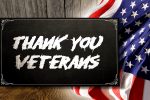 Sussex County Clerk Jeff Parrott and his entire staff want to say "Thank You" to our veterans for their service and sacrifice.
In honor of Veteran's Day, the Sussex County Clerk's Office is offering our Veterans and their immediate family members a complimentary passport photo when applying for a U.S. Passport through our office during the entire month of November.
Proof of Veteran status must be presented and family members must accompany the Veteran at time of application.