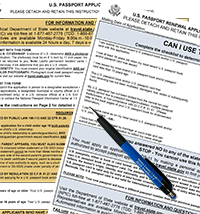 SPECIAL NOTICE TO PASSPORT APPLICANTS
Customers applying for a passport with the Sussex County Clerk's Office will be required to schedule an appointment for service.
Applicants should arrive with their application forms completed and all supporting documentation in order. Visit our New Passport page for application forms and requirements.
Call 973-579-0900 to schedule an appointment.
UPDATED PASSPORT PROCESSING TIMES:
Routine Service:   10-13 weeks
Expedited Service:   7-9 weeks
Notes: (1) When taking a passport photo, applicants should not wear white as it interferes with the required white background, nor should uniforms or clothing that resembles a uniform be worn, nor should camouflage attire be worn. Click #PicturePerfectPassport to view a short video about passport photos. (2) Persons applying for a passport book or passport card should take note of "busy" application periods. Early spring is traditionally the busiest time for passport requests, so applicants should plan ahead whenever possible and apply as early as December or January to avoid possible high volume delays.
SPECIAL NOTICE REGARDING EXTENSION of REAL ID DEADLINE:
Due to circumstances resulting from the COVID-19 pandemic, enforcement of the REAL ID deadline has been extended until May 07, 2025. Visit the Dept. of Homeland Security for more information. Note that passport books  and passport cards can be used as Real I.D.