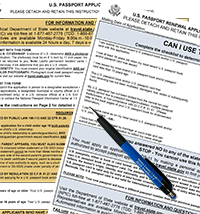 SPECIAL NOTICE TO OUR TRAVELING COMMUNITY:
Due to growing concerns over the continued spread of COVID19, the Sussex County Clerk's Office is suspending all passport services until further notice. Please check back for future updates.
The Sussex County Clerk's Office is a passport acceptance agency for the U.S. Department of State. Citizens may apply at the Clerk's Office in Newton for a United States Passport Book or Passport Card.
When applying at our office, please plan on arriving no later than 3:30 p.m. so that ample time is available to process your passport (parties of three or more should arrive no later than 3 p.m.). If you plan to apply in person during our extended office hours (every 1st Monday of the month), you must call our office in advance and schedule an appointment; passports are accepted by appointment only on the first Monday of the month. To save time, you should arrive with your application(s) already filled out and have your supporting documents in order. Visit our New Passport page to ensure you have the required documents and copies prior to your visit.
Notes: (1) When taking a passport photo, applicants should not wear white as it interferes with the required white background, nor should uniforms or clothing that resembles a uniform be worn, nor should camouflage attire be worn. Click #PicturePerfectPassport to view a short video about passport photos. (2) Persons applying for a passport book or passport card should take note of "busy" application periods. Early spring is traditionally the busiest time for passport requests, so applicants should plan ahead whenever possible and apply as early as December or January to avoid possible high volume delays.