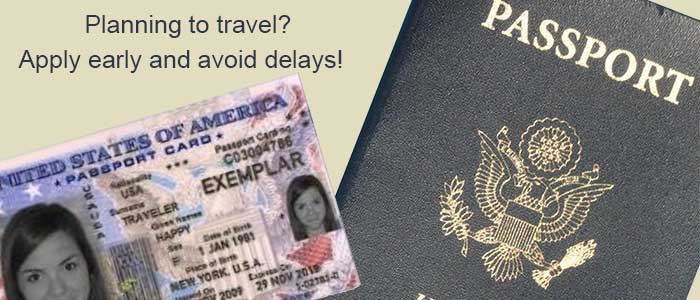 It's cold. Maybe you're ready to send the Polar Vortex packing and get yourself packing, too — for an early Spring getaway! Keep in mind, if your destination takes you to some tropical paradise outside the U.S., you'll want to make sure your passport is valid. If you don't yet have a passport, don't worry – we can help you get one!
Your Sussex County Clerk's Office is an authorized passport acceptance facility. Whether you're a first-time applicant, or you find you're ineligible to renew your old passport by mail, County Clerk staff will review your paperwork to ensure your application and supporting documentation are in order.
Check the validity of your passport (and those of family members traveling with you) as soon as you think about traveling. Knowing you are prepared in advance is the best first step toward a relaxing travel experience. Keep in mind that the routine processing time for a passport is four to six weeks, but during peak travel season (early spring through mid-summer) that timeframe easily extends the full six weeks, and at times can extend to eight. You can pay an additional fee to expedite your application if necessary and reduce that time to three weeks – but again, the best defense is to apply early and avoid worry and rush fees.
Once you've taken steps to ensure you and your family have valid passports for travel, visit travel.state.gov to learn about steps you can take before traveling to ensure a safe and healthy trip and improve your overall experience abroad.
If your travel plans fall on or around a scheduled Election Day, consider applying for a Vote By Mail Ballot before you leave. Call the County Clerk's Election Division with questions about early voting by mail (973-579-0900, ext. 1507).
For more information about passports visit https://sussexcountyclerk.org/passports/ or call the Clerk's Office at 973-579-0900.